Explore salary benchmarks.
Find out how much you should be paying your employees or how much you could be earning this year based on industry benchmarks.
How to attract and retain talent.
We surveyed our global database to gather insights from the perspective of both professionals and hiring managers. This research will help guide your talent attraction and retention strategies for 2023 and beyond.
Flexible working patterns are key
When applying for a new role, 39% of professionals in Mainland China would prefer to go into the office 1 or 2 days per week.
Salary expectations continue to grow
59% of employers in Mainland China believe that salaries in their sector will continue to rise throughout 2023.
View more insights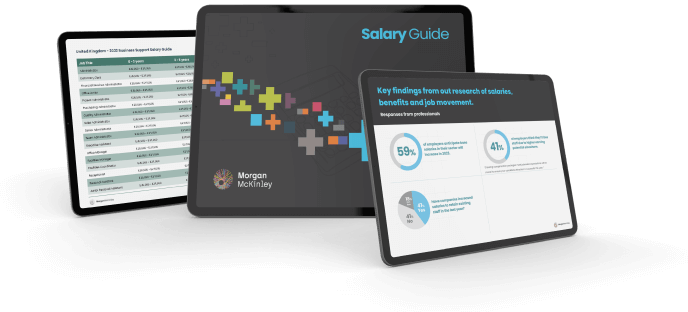 Download your salary guide for
2023

.

Salary data, insights and advice to guide your talent strategies. Benchmark what you are paying your teams against the industry averages for roles in your location.

Get your copy
Frequently Asked Questions.
Expand all
The average salary for those working in professional services in Mainland China in 2023 is above ¥350,000. Full-time workers in Mainland China on average make ¥29,300 a month, equating to ¥351,600 a year (pre-tax).
Simply type in the job title you wish to search and select the most relevant options from each dropdown. Once you click the button to compare, you will be able to easily benchmark salaries.
The salaries in this guide have been compiled using data from thousands of placements over the past year, insights from our teams of expert recruitment consultants, as well as first hand research from the views of hiring managers and professionals on our database.
The salary bandings within this guide will be updated if and when needed to reflect any market changes throughout the year to help.
'Competitive salary' means that the business is offering a salary that can compete with what the market salary rate is for the advertised role and/ or offer a higher salary.
You can ask "What would the company typically pay for this role?" as sometimes, if you lay all your cards on the table and outline your salary expectations, you risk being screened out of the process. This can happen if in the job description the compensation is highlighted as 'competitive'.
They will then either give a range or provide more details about the position and then ask the question again, at which point you can make a more informed call.
Our article on 'How to answer salary expectation questions' provides more tips on how to answer the 'expected salary' question.
Salary packaging is also known as salary sacrifice. Salary packaging is when you and your employer agree to 'package' your salary into income and benefits. This means your overall take-home salary is less which in turn means you will be taxed less. For more information we recommend you speak to your recruitment consultant or tax agent as they are best equipped to provide guidance.